'How To' Guide for Simply Schools 7"( 3:2 Ratio) Multi Pose Proof Cards
If you haven't already got a Schools Multi Pose Proof Card setup up with us, you can choose one by clicking here.
The following step-by-step guide, gives you an overview of the whole process from start to finish.
When photographing, try to get 4 shots of each child. make sure you leave enough white space around each child to allow for cropping, bleed and for the mount overlays which the final photographs will be supplied in. Information on how this may affect your images can be found in the Cropping Guide.
Editing and Cropping Your Images
Edit your images as you feel necessary (Don't forget our skilled technicians will colour correct all of your images free of charge). Images should be provided to us as jpeg's sized at 10x7" @ 300dpi (3000x2100px) in an sRGB or Adobe98 colour space. When cropping your images, please be aware of the 1" safe area required for pack production which is explained in the Cropping Guide.
Organising Your Images
If there are any classes, create seperate folders for each class, name the folder the name of the class, otherwise just create a folder for the Nursery. Put 4 images of each child into the folder. When we create your proof cards, the class name will appear on them and we will supply them in class batches making it easy for the School to hand them out. It doesn't matter what you name your images but please avoid using strange characters.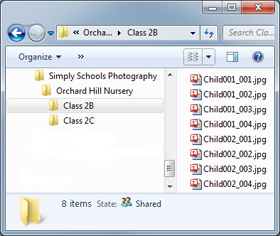 Option 1: Online Via FTP (File Transfer Protocol)
Using an FTP Client, you can upload your images directly to us. This is only recommended if you have a good internet connection as it may take several hours. Please see our walk through FTP guide for instructions on how to FTP images to us.
You must complete an online proof card order form when sending us images via FTP.
Option 2 : Via CD/DVD
Burn your class folders containing all the images to a CD or DVD and pop it in the post to us at:
One Vision Imaging
Herald Way
Binley
Coventry
CV3 2NY
Fill out the online proof card order form, print a copy of the confirmation email and send it to us along with your disk.
We will process your images and generate your proof cards from them. This should take no more than 3 working days. We then despatch them to the delivery address specified by you on the order form (for instance this could be your address or the address of the School).
Standard delivery for proof cards is First Class Post.
We recommend leaving proof cards with parents for 7 days. Collect from the School after 10 days to allow any late orders to be caught.
Empty each envelope checking that the correct monies/cheque has been paid for the pack(s) ordered, which you then bank. We ask that you check that the proof card orders are complete before returning them to us with your order form which you can download here.
From receipt of your proof cards at One Vision, we should create your packs and prints within 7 working days. Again, we can post these back to you, or directly to the School.
You will be charged on two occasions;
Initial Proof Cards and Envelopes
Traditional Pack Sales (i.e. hard copy orders from proof cards)
Further details of the actual costs can be found here