How to Order Photographic Prints from Your Images via CD/DVD in the Post
Preparing Your Files Before Burning
Name a top level folder either Lustre, Glossy or Metallic dependant on required finish.
Place Sub Folders inside the top level folder labelled with the print quantity followed by size. i.e. '2 off 7x5' and place the correct files in the folder.
Burn the folders to CD.
Print off and fill out an order form.
Send the Order Form and CD to:
One Vision Imaging Ltd,
Herald Way,
Binley,
Coventry,
West Midlands,
CV3 2NY,
United Kingdom
Notes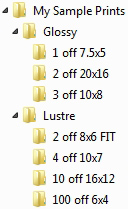 Do ensure only the images that need printing are on the disc.
Do check the folders are labelled correctly.
Do send us CD's or DVD's ONLY.
Do not invent new sizes. If you require a non-standard size use an editing application such as PhotoShop to put the image onto a canvas of the correct dimensions.
Do Not mix sizes or quantities in the same folder.
Mac Users - Please ensure discs are ISO format as we read them on a PC, Please use only characters that a PC can understand for filenames.
Accepted File Types are JPG and TIF.
Colour corrections will be carried out by a trained Colour Technician. Colour matching is subjective (Please see our Terms and Conditions). Quality can only be achieved if the original file is of suitable quality.
Colour Profiles are used if embedded file. If no profile present our workflow will assume sRGB which is suitable for most purposes.
FIT/FILL By Default all orders will be printed 'Scale to FILL'. If you wish to use 'Scale to FIT' please put the word 'FIT' at the end of your folder name.
Fit/Fill Explained
Fit
The whole image is made to FIT onto the print. If the Image is not the same ratio as the print there will be white borders on the print either at the top and bottom or left and right.
Fill
The complete sheet of paper is filled with image. If the image is not the same ratio as the print size some of the image will be cropped.