Your Lab Needs You
One of the best ways we can share the quality we strive for in our products is winning awards. The value of any award is down to who gives it and for what. Peer voting is particularly valuable as these votes are akin to a referral. Arguably the biggest awards in our industry are The Societies Trade Awards.
We have won 'Best Pro Lab' and 'Best Pro Framing' twice before, but are keen to win again. We narrowly missed last year, so need your help to get as many votes as possible for the 2021 awards.
So we are asking for your help to make our dream come true and win for a third time. Please CLICK HERE TO VOTE and place your vote for us in:
Best Professional Lab
Best Professional Album
Best Customer Service
When you vote, you'll receive an automated confirmation email from The Societies. By forwarding this to: vote@onevisionimaging.com, you'll receive 30% off a Framed Print order placed through this website.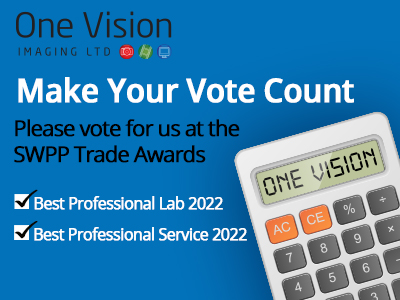 Thank you in anticipation, for taking a few minutes out of your schedules to vote.
Team OVI