Film and Scanning Services
Our traditional pro-lab services are as strong as ever. We believe we have managed to retain and improve on our solid traditional service as well as offer new products and services to the digital photographer.
Film Scanning Service
Scanning (Negatives and Transparencies – 35mm & Medium Format 120)
So many of us have hundreds if not thousands of negatives and transparencies buried away in drawers or left in shoe boxes gathering dust in the loft. Using our high, quality Batch Scanning service you can now reinvigorate those priceless memories and share them with your family and friends on your computers, phones and televisions.
Choose from High Resolution or Super Resolution according to your viewing or printing requirements.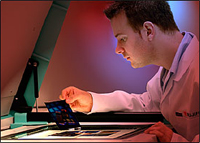 Each and every scan is colour corrected to ensure your memories are bought back to life as a digital image to enjoy.
So, whether you've got 20 or 20,000 items to scan we've got a cost-effective solution to convert your history into a modern day visual presentation.
* Our scanners automatically remove dust from films for colour films only so B&W films can not be guaranteed dust free.
Technical Stuff
Images are saved as maximum quality jpegs.
Image names identify the # number in CDi for easy ordering of prints.
Low Res Scans are 4.5MB when opened.
High Res Scans are between 16 and 18MB when opened depending upon film format.
Super Res Scans are between 40 and 60MB when opened depending upon film format.
Files are saved in sRGB colourspace.
Prices
Please download our Price List for details.
Transparency
For a number of years now we have been using a digital system to gain the maximum out of your transparencies.
Our digital system offers you a superior quality print, giving you detail, sharpness and saturation that cannot be achieved with traditional methods.
Paper
Glossy Finish (standard).
Lustre (on request).
Formats
Prices
Please download our Price List for details.