Print Mounting, Sealing and Finishing
One Vision's Mounting and Framing department offers an impressive range of mounting materials to suit all requirements. Using state of the art technology combined with years of hands on experience One Vision produce a perfect finish every time.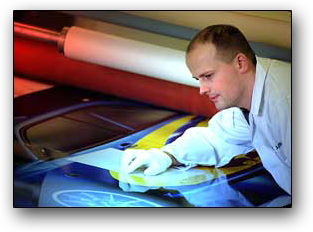 Whether it be your prized photographs or prints being prepared for display we offer a comprehensive selection of mounting and sealing materials for the perfect finish, all available to buy in a wide variety of sizes online by clicking the link below.
Download Pricelist
Buy Now
Card

Standard white 2mm card up to 8x4ft, or coloured mount board 1.25mm up to 32x44".
Medium Density Fibre Board (MDF)

Heavy smooth wood based board available from stock in 3mm and 6mm thickness up to 8x4ft. MDF is ideal where strength is paramount.
Foam Board

A smooth white board of very light weight available in 5mm or 10mm thickness up to 8x4ft.
Rigid PVC

Smooth white plastic sheet stocked in 3mm or 5mm and up to 8x4ft. Other Colours and larger sizes are available to order.
Print Sealing
A thin, clear polyester film which is bonded to the surface of photographic prints.
Lustre Seal

Our standard budget print seal.
Anti Scratch Seal

Pearl effect and highly durable.
Gloss Seal

High gloss for maximum impact.
Linen Effect Seal

A fine weave linen effect.
Canvas Effect Seal

A fine grained canvas effect.
Matt Effect Seal