Reprints from Package Deals
As all package deals are automatically imported into our CDi Workflow database free of charge, reprints couldn't be simpler.
Step 1:
Just email, phone or FAX us with the unique # number on the back of the print (or from the index print) stating the size, quantity and finish and we will do the rest.
Step 2:
That's it; there isn't a step 2.
Identifying the unique # number for re-ordering purposes
The # number is on the back of your prints and also underneath each image on the index print.
Unique image number (please quote this number when placing your reprint order).
Date Image Stored (images will be stored for at least 6 months from this date).
Lab Reference No.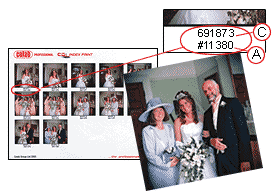 What if I did not use One Vision Imaging for my initial print or my print is over 6 months old?
Not a problem. Just send us your negative along with a completed reprint order form.