Why do some of the wood finish frames appear differently?
Due to the nature of natural wood, some frames may vary slightly in colour and finish.
How are frames glazed?
All frames are supplied glazed with high quality perspex by default, depending on your paper and Window Mount choices, you can also choose from Anti-Glare Perspex, ClearView Glass or a choice of print seals.
How are framed prints shipped?
Shipping is via Royal Mail for small frames and courier for larger ones.
How long will it take to get my framed print?
All framed prints are built to order so please allow upto 7 working days in production. If you order ClearView glass, please allow up to 9 days.
The size I want is not listed.
Contact us below.
The type of frame I'm looking for is not listed.
Contact us below.
I require a large volume manufacturing, can you fulfill?
Yes we can accommodate bulk ordering, contact us below.
What can you frame?
We can frame almost anything including football shirts and other sports memorabilia. Please contact us with your requirements.
Where are your products made?
Framed prints are built by hand in our laboratory in Coventry, UK.
Are your frames supplied with a hanging kit?
Yes, all framed prints come ready to hang or with the choice of a desk stand if the size permits.
How do I hang my Framed Print?
Step 1
We recommend holding your framed print where you want it to hang, then get a helper to run a length of painters tape along the wall across the top of the frame and mark on the tape where the edges of the frame are (be sure to use a spirit level).
Step 2
If your product is fitted with sawtooth hangers, measure down to the bottom jaw from the top of the product, and in to the centre of the jaw from the closest side (in the example below, we have 6cm fro the top).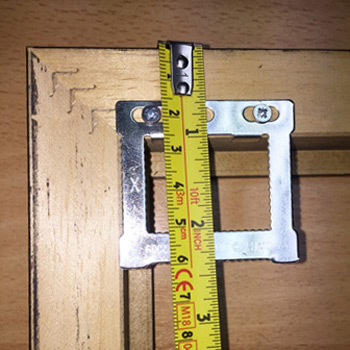 Step 3
You can now measure down and across from your tape marks, then mark the wall.
Step 4
Install your desired wall fixing (which varies depending on your wall) such as a nail, picture hanging hook, rawl plug and screw etc. Then hang your product.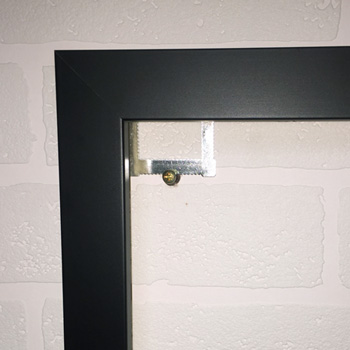 Safety
Keep the artwork out of the way when measuring and drilling to avoid accidental damage to the product.
Make sure the wall can support what is being hung on it.
In principle, these instructions can be used to hang any size and weight of artwork, but make sure your fixing implements are strong enough to take the weight.
Take care when drilling or hammering into the wall. There may be electrical wires or plumbing in the wall that could cause damage to the structure, personal injury or death.